Kessilya : Gabriel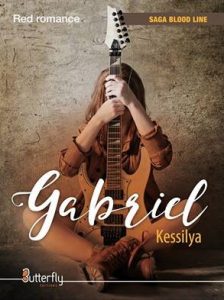 Cerise et Gabriel ne semblent rien avoir en commun mis à part leur amour pour la musique. Oui, mais pas seulement…
Entraînés tous les deux dans une vie dont ils n'ont pas voulue, ils lutteront, chacun à leur manière, pour parvenir à s'en sortir indemne.
Quand la vie devient trop courte pour attendre, quand l'impossible devient possible, quand les rêves deviennent réalité… Voici la rencontre de deux êtres tiraillés par leurs désirs et en quête d'un tout nouveau futur.
Juliette Mey : Up and Down – Saison 1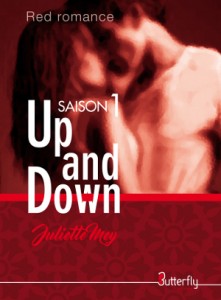 Camille est une jeune journaliste fraîchement diplômée….ou presque. Il ne lui reste plus qu'un stage de fin d'études pour pouvoir enfin voler de ses propres ailes. Ambitieuse au possible, elle pense qu'il ne s'agit, là, que d'une simple formalité.
Elle s'imagine déjà un avenir formidable entre un emploi épanouissant et une vie de famille rêvée avec son fiancé, Marc.
Mais, c'était sans compter sa rencontre avec Jared, chanteur mondialement connu et adulé par des millions de fans. Tout, sauf son type d'homme. Contrainte de promouvoir sa tournée européenne , elle va se retrouver plongée dans le monde de la célébrité avec ses excès et ses facilités.
Le caractère, tantôt charmeur, tantôt noir de Jared va très vite la pousser à perdre le contrôle de ses certitudes.
Désir, passion, amour, jalousie, trahison sont des maux dont elle n'aurait jamais voulu souffrir. Mais, ça, c'était avant qu'il ne pose ses yeux sur elle….
Juliette Mey : Up and Down – Saison 2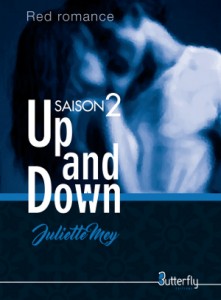 Jared. Camille.
Un homme. Une femme.
Un couple.
Des secrets.
Une vie à construire.Lorsque Camille obtient une promotion à Washington afin de couvrir les élections primaires d'un parti politique américain, Jared décide de la suivre sans hésiter. Ils commencent alors une vie de couple loin des tourbillons médiatiques qui ont mis à mal le début de leur relation. Pensant que le pire est derrière eux, ils profitent pleinement de ce que l'existence a à leur offrir.Faire évoluer cet amour les rapproche incontestablement jusqu'au jour où Jared se fait rattraper par ses pires démons.Des décisions importantes devront être prises.
Des décisions où il y aura un avant et un après.
Des décisions qui risqueront de changer à tout jamais le cours de leurs deux existences.Jusqu'où seront-ils prêts à aller pour préserver leur amour de tous les secrets qui s'apprêtent à refaire surface
Juliette Mey :Up and Down – Saison 3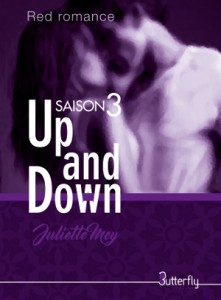 Jared. Camille.
Paris. Washington.
Un homme. Une femme.
Une naissance à venir.
Sept mille kilomètres de distance.Quand Jared se retrouve confronté à sa pire angoisse, il ne peut s'empêcher de répondre à l'appel de son plus vieux démon…Mais son comportement aura des conséquences.
Des conséquences sur son couple.
Des conséquences sur son présent, des conséquences sur son avenir.
Des conséquences bercées par les derniers secrets de son passé qui trouveront des réponses inattendues lors de l'ultime procès de l'homme qui a détruit sa vie.